Enjoy the pre-recorded programs with TBI's theater-quality projection and sound system.
Doors open 30 minutes before program.
All events are $15 at the door and $10 with advance reservations. Contact the Temple office to register.
*FREE ADMISSION TO TEMPLE BETH ISRAEL MEMBERS*
Thursday, November 15th, 2018 – 7:30 PM – Democracy's Ultimate Sanction – Impeachment: Process and Purpose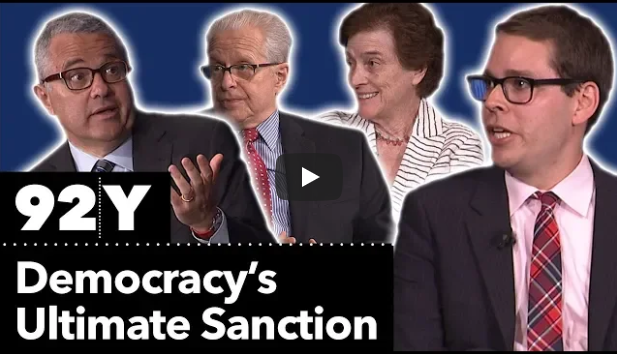 Laurence Tribe, Joshua Matz and Elizabeth Holtzman with Jeffrey Toobin
Reflecting on impeachments, one Constitutional Convention delegate famously declared, "A good magistrate will not fear them. A bad one will be kept in fear of them."
But when is it appropriate to impeach a president, and should it be done? In their timely new book, To End a Presidency, Laurence Tribe and Joshua Matz take us inside democracy's ultimate sanction — the power of presidential impeachment — from its complex past to its role in today's fractured political world. Hear from these constitutional authorities when they sit down with another expert on impeachment, former US Representative Elizabeth Holtzman, a member of the House Judiciary Committee who voted to impeach President Nixon, and CNN's Jeffrey Toobin
Thursday, November 29, 2018 – 7:30 PM – Operation Finale with Sir Ben Kingsley, Joe Alwyn and Chris Weitz, moderated by Thane Rosenbaum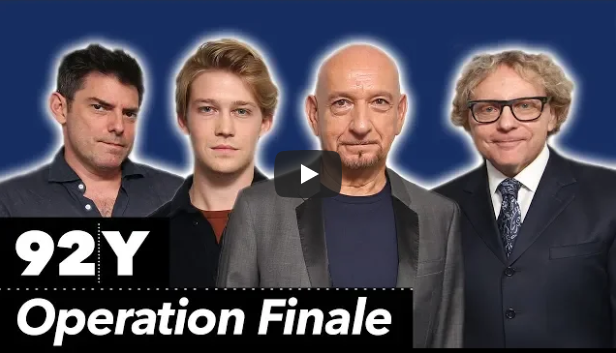 The gripping new film Operation Finale tells the story of the riveting capture of Nazi official Adolf Eichmann—the first great mission of Israel's masterful spy network.
Join Academy Award winner Sir Ben Kingsley, who stars as Adolph Eichmann, Joe Alwyn (Klaus Eichmann), and Oscar-nominated director Chris Weitz for a conversation with FOLCS/NYU Law School's Thane Rosenbaum. Learn about the incredible real-life events that brought Eichmann to justice for his crimes against humanity, and hear how these artists transformed thrilling history into big-screen drama.
The Forum on Law, Culture & Society (FOLCS) brings together influential artists, government leaders, members of the legal profession and public intellectuals, to examine the big ideas of our day, particularly in matters regarding law, justice, human rights and civil society. FOLCS hosts a Film Series, a Conversations Series, Trials & Error and Law of the Land: The Supreme Court's Year in Review. Learn more at FOLCS.org.
Thursday, December 6th, 2018 – 7:30 PM – Inside the Mossad: Ronan Bergman in Conversation with David Sanger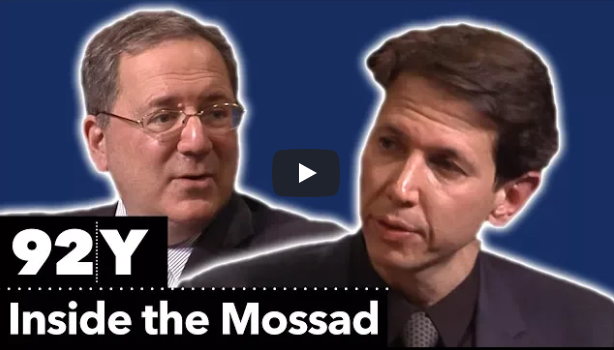 Since the founding of Israel in 1948, the nation has relied on its intelligence community and armed services to defend against those who would do it harm.
And in Rise and Kill First: The Secret History of Israel's Targeted Assassinations, veteran journalist Ronen Bergman — "arguably Israel's best investigative reporter," in the words of David Remnick — pulls back the curtain on the country's most effective secret weapon. Hear gripping accounts of the dangerous missions undertaken by the Mossad, Shin Bet and the IDF to root out Israel's enemies before they could attack the Jewish state. And explore the thorny ethical questions that Israeli forces have grappled with as they protected their homeland.
Thursday, December 20th, 2018 – 7:30 PM – David Sanger with Nicholas Kristof: War, Sabotage and Fear in the Cyber Age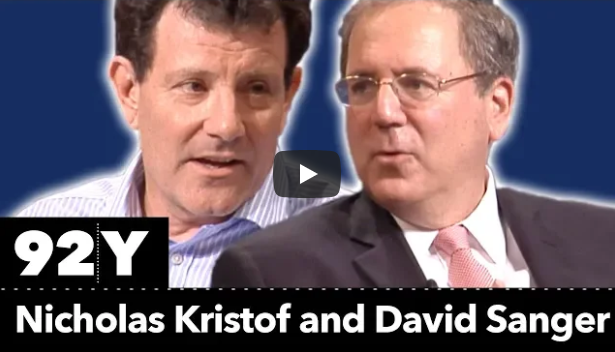 The Russian attacks on the American election are merely the culmination of the remarkable first era of cyberwar. Cyberweapons have reordered the way we conduct diplomacy and war, and though the US struck first in Iran with the cyber operation Olympic Games, it has since found itself backpedaling in the face of attacks from Russia, China, and North Korea that left it unsure of how to respond. In his urgent new book, The Perfect Weapon, leading New York Times national security correspondent David Sanger takes us inside this escalating conflict and shows how digital weapons inspire fear in their ability to both melt nuclear reactors and undermine democracies.
Thursday, January 3, 2019 – 7:30 PM – Law of the Land: The Supreme Court's Year in Review

(THIS IS A 2-HOUR PROGRAM)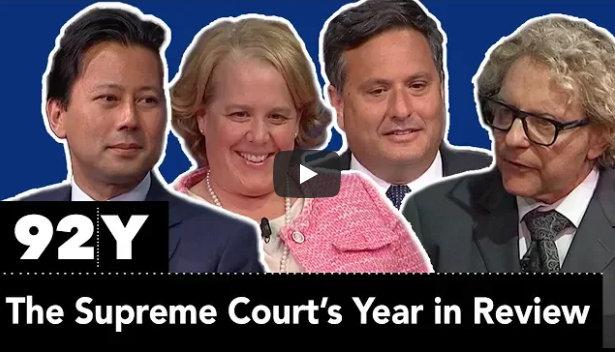 92Y, and its partner, the Forum on Law, Culture & Society at NYU School of Law, continues its annual program, Law of the Land: the Supreme Court's Year in Review. We take you inside the Court's major rulings and discuss their bearing on past and future cases.
The Supreme Court of the United States is the branch of government with the most mystery, and curiosity. The proceedings are not televised, and yet many are fascinated by the goings on at the High Court, despite having little understanding of the cases decided there, and what they mean for most people.
Join us with Ron Klain, Kenji Yoshino, Roberta Kaplan and our moderator Thane Rosenbaum for another fascinating look at the Supreme Court's just concluded term, and reactions to Brett Kavanaugh's nomination.
Thursday, January 10, 2019 – 7:30 PM – An Evening with Thomas Friedman: Thank You for Being late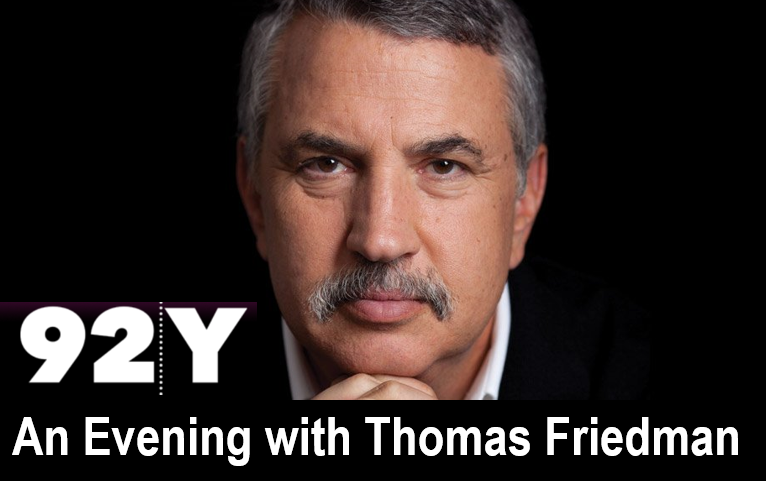 Join the three-time Pulitzer Prize winner for a can't-miss talk about his new book, Thank You for Being Late — described as "a masterclass in explaining [these times]" by The New York Times Book Review.
This event was endowed by Lynda and Robert Safron / Edythe Kenner Foundation, and supported by Producers Circle member Jeff Schoenfeld. Learn more about the Producers Circle.
Tuesday, January 15, 2019 – 7:30 PM – Howard Jacobson and James Shapiro discuss Shakespeare and the Jews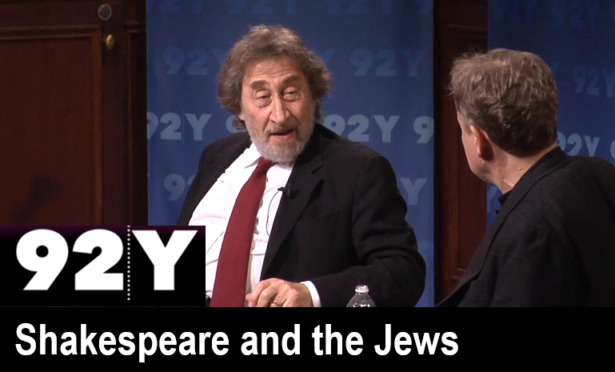 Renowned for their storytelling and scholarship, two experts discuss Shakespeare and the Jews as part of 92Y's 400th-anniversary celebration of the Bard's legacy. Howard Jacobson rewrites The Merchant of Venice in his new novel, Shylock is My Name, bringing the playwright's most controversial character into a contemporary setting. Jacobson is joined by James Shapiro, whose groundbreaking work of scholarship, Shakespeare and the Jews, was an important influence on Shylock is My Name and has recently been reissued in a 20th-anniversary edition. His new book, is The Year of Lear.
Monday, February 11, 2019 – 7:30 PM –David Rubenstein with Gen. (Ret.) David H. Patraeus: Leadership in Times of Crisis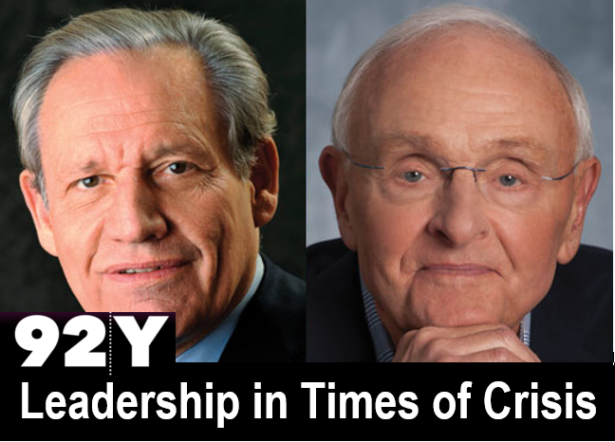 It's a truism that it takes a crisis for true greatness in leadership to emerge. Four-star general David Petraeus joins David Rubenstein, the financial, philanthropic and media visionary, to explore the essence of great leadership: moral, philosophical and practical. They'll share the most challenging moments from their storied careers and offer advice for today's leaders and leaders of the future.
Monday, February 18, 2019 – 7:30 PM –Melissa Rivers in Conversation with Whoopi Goldberg: Joan Rivers Confidential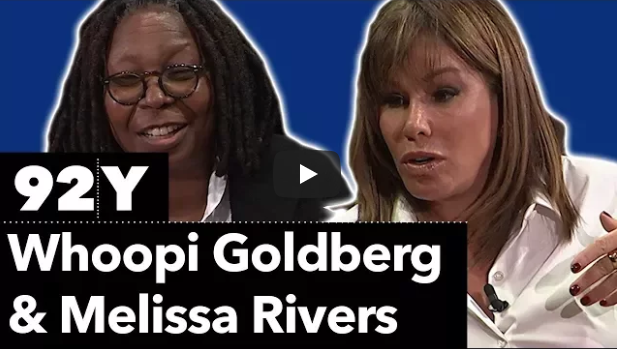 Melissa Rivers and Whoopi Goldberg discuss Melissa's new book Joan Rivers Confidential, a rare compilation of never-before-seen personal archives from the collection of her mother, the late, multi-talented and iconic comedian Joan Rivers.
Rivers kept mementos and the book contains scripts and monologues, letters from famous friends, exchanges with fans, rare photographs, as well as classic and never-before-heard jokes — many simply scribbled on everything from hotel stationery to airplane boarding passes. Touching on subjects from her 50 years in show business, it's a revelatory and humor-filled insiders look.
Monday, March 11, 2019 – 7:30 PM –Israeli Ambassador Ron Dermer with Thane Rosenbaum: Defending the Jewish State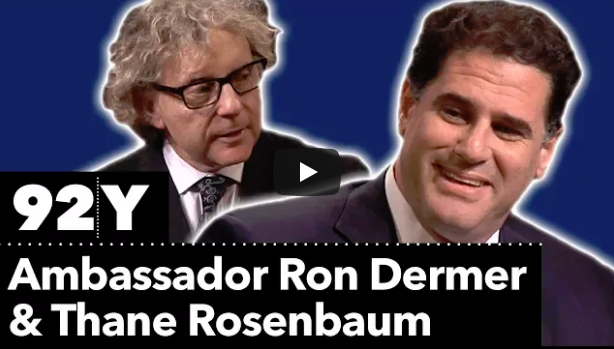 Ron Dermer, the Israeli Ambassador to the United States, has risen to the challenge as an articulate and passionate defender of the Jewish state. Join FOLCS director Thane Rosenbaum for a wide-ranging and timely conversation with Ambassador Dermer.
Co-presented with the Forum for Law, Culture, and Society (FOLCS) at NYU Law School The Forum on Law, Culture & Society (FOLCS) brings together influential artists, government leaders, members of the legal profession and public intellectuals, to examine the big ideas of our day, particularly in matters regarding law, justice, human rights and civil society. Learn more at FOLCS.org.
Monday, March 25,  2019 – 7:30 PM –David Brooks: The Quest for Deeper Meaning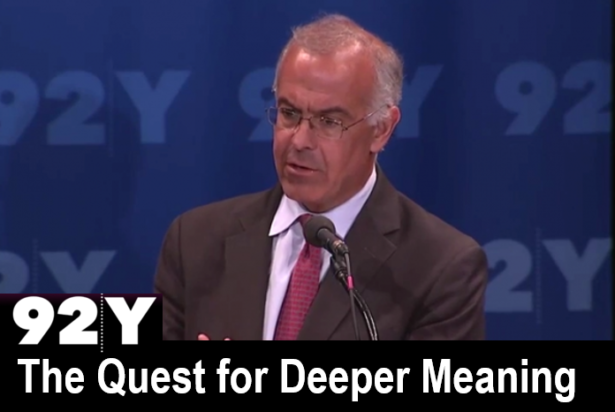 Success, stability, security — achieving these goals is life's "first mountain," says New York Times op-ed columnist David Brooks. But once you've climbed it, what comes next?
The search for one's true purpose. What does it mean to move from material gain to spiritual satisfaction? To focus on building character rather than attaining status? This is life's "second mountain," and Brooks, the bestselling author of The Road to Character, is here to offer his signature ethical perspective on this pivotal turning point. Join one of today's top commentators on politics, culture and the social sciences for an eye-opening discussion of the quest for deeper meaning.
This event is supported by Producers Circle members Lynda and Robert Safron / The Edythe Kenner Foundation. Learn more about the Producers Circle.
CLICK HERE TO REGISTER
Thursday, April 11, 2019 – 7:30 PM –The Future of God: The Merging of Science and Religion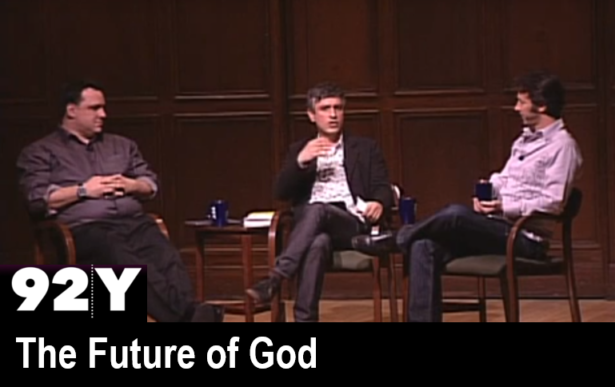 Must science and religion always be opposing and irreconcilable forces? Dr. Reza Aslan, Andrew Zolli and David Eagleman look at recent trends in theoretical physics and the response of contemporary theologians to scientific theories and discuss whether science and religion can, in fact, be seen as complementary ways of understanding our world.
Thursday, April 18, 2019 – 7:30 PM –Bret Stephens in conversation with Thane Rosenbaum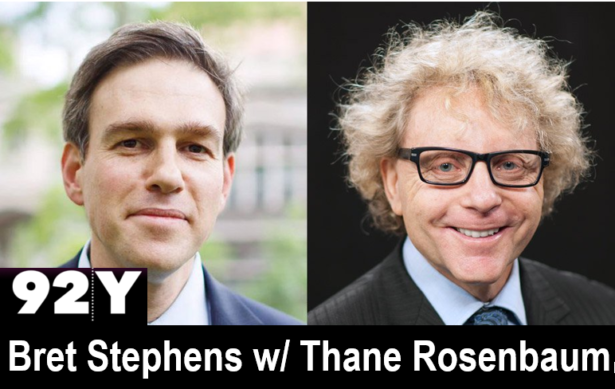 This is part of the Thane Rosenbaum Talk Show
Pulitzer Prize-winning columnist Bret Stephens has developed a reputation for courageous opinion writing, from his provocative perspective on climate change to his steadfast support for Israel to his pro-immigration stance and his devastating critiques of both Presidents Obama and Trump, the latter coinciding with his move from The Wall Street Journal to The New York Times. Meet this always astute, engaging and entertaining chronicler of the American and world political scenes, with our Talk Show host, novelist and law professor Thane Rosenbaum.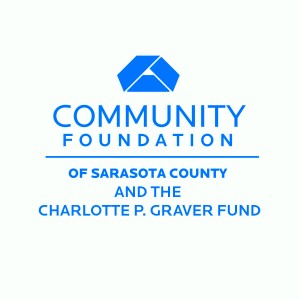 The Charlotte P. Graver Fund
of the Community Foundation
of Sarasota County is again
sponsoring this season's
92nd St Y broadcasts.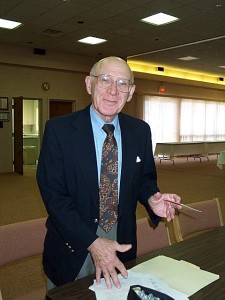 The Rabbi Sanford E. Saperstein
Memorial Fund of Temple Beth Israel
initiated the 92nd St Y Live broadcasts
to honor  Rabbi Saperstein
and his belief in community enrichment.