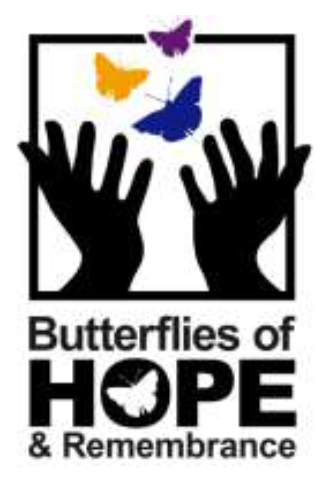 The Butterflies of Hope and Remembrance Project is a year-long initiative comprised of special events and Holocaust and genocide educational programming — commemorating the 75th Anniversary of the end of WWII and the liberation of the Nazi concentration camps.
(For online donations, see form at bottom of this page)
What is the importance of Holocaust awareness & education? Click here for more information.
ABOUT: Inspired by The Butterfly Poem by Pavel Friedmann –prisoner of Theresienstadt Concentration Camp -June 1942. Around the world, butterflies are viewed as deep and powerful representations of life andrebirth, representing endurance, transformation and hope.
VISION: As the generation of Holocaust survivors fades into the twilight and at the same time, as the resurgence of anti-Semitism and its ugliest manifestation, the denial of the Holocaust, spread their insidious hatred, it is increasingly important that we emphasize Holocaust education among all, especially our youth. This year -long Holocaust awareness and education program, in commemoration of the 75th anniversary of the end of WWII and the liberation of the Nazi concentration camps, provides a unique opportunity to continue to educate our youth and to foster the critical thinking required to differentiate between fact and fiction.
THE GOAL is to inform and inspire future generations to combat hate in all forms, in the hope of creating a kinder, more tolerant and peaceful world for all humankind.
PARTNERSHIP: The Jewish Federation -Sarasota Manatee and Temple Beth Israel are co-sponsors, collaborating with community partners, schools, teachers, faith-based organizations and places of worship, corporations, media, grantors, donors and additional sponsors to support and participate in programming.
COMMEMORATIVE EVENTS: During all programming, we celebrate and honor local Holocaust survivors/2nd & 3rd Generation/Liberators and involve interfaith communities. 
November 7, 2019 – Kristallnacht (11/9) – Announcement of year-long commemoration

January 26, 2020 – International Holocaust Remembrance Day 




February 25, 2020 – An evening with Deborah Lipstadt Community Lecture




April, 2020 – Holocaust Remembrance (Yom HaShoah)



March 9, 2020 – Ruth Bielski Ehrreich – Guest Speaker at Temple Beth Israel – TICKETS HERE

May 7, 2020 – VE Day 

November 8, 2020 – Kristallnacht –  Final tribute to year-long commemoration
EDUCATIONAL PROGRAMMING:  Educational Programming is offered to all schools, organizations and places of worship and features age-appropriate, instructional, inclusive and interactive topics. 
1. School Curriculum
2. School Bus Trips to the Florida Holocaust Museum (St. Petersburg, Florida)
3. Teacher Training conducted by FHM
4. Traveling Exhibits: History of the Holocaust, The Rescuers, Kaddish in Wood
5. Film showings/Common Reads
6. Guest Speakers/ lecturers /University Lunch and Learn lectures
7. Holocaust Survivors Speakers' Bureau
8. Library Displays/Posters exhibiting the human traits of the Rescuers
9. Arts & Music Projects:
a. Butterfly paper mosaic art installations
b. Concerts/ Theme Song and other musical pieces
c. Rock Painting to create Butterfly Rock Gardens
d. Origami Butterfly Installations
10. Bibliographies, Filmographies, Resources
11. Hands Against Hate /Never Again Community Gathering
EDUCATIONAL PROGRAMMING PARTICIPANTS INCLUDE:  
1. Arts and Cultural Alliance of Sarasota
2. CCA- Cross-College Alliance -consortium of 5 local colleges
3. Classrooms Without Borders
4. Embracing our Differences
5. Florida Holocaust Museum
6. Jewish Federation Sarasota-Manatee
7. Jewish Foundation for the Righteous
8. JFCS
9. Libraries
10. New College of Florida
11. Osher Lifelong Learning Institute
12. Realize Bradenton
13. Ringling College of Art & Design
14. Schools: Public/Private/Charter /Religious
15. Second Generation Survivors and Liberators
16. Selby Botanical Gardens
17. Synagogues /Interfaith Community/Diocese of Venice
18. USF
19. U.S. Holocaust Memorial Museum