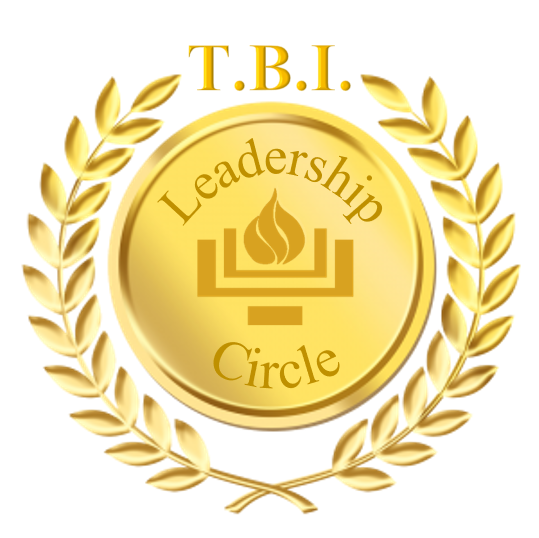 Q: WHAT IS THE  LEADERSHIP CIRCLE?
It is the Recognition Society of our Temple. It is our mainstream way of raising funds. Most Temples have a similar activity. It is a way to maintain a full schedule of    religious, educational, social and outreach activities, some of which require budgets beyond the income stream from dues in a Temple of our size.
Q: WHAT IS THE CONTRIBUTION LEVEL? 
$5,000 and over is Platinum level. $1800 or more for Gold recognition level. $1,200 Silver and $600 Bronze, over and above annual dues.
Q: SHOULD EVERYBODY  PARTICIPATE?
No. The Leadership Circle is not for everybody. Every member enriches our congregation with their affiliation and involvement. Some of our members achieve leadership through very valuable work on the Temple's behalf. Some of our members are natural leaders by force of personality. The Leadership Circle focuses on one facet of leadership, that of economic participation. Every member has to judge for himself or herself what is appropriate. Our religion has a tradition of Tzdakah.  Those who can give, will.
Q: WHAT IS THE RECOGNITION PERIOD?
One full fiscal calendar year (6/01 – 5/31). In June we start raising funds. All those who continue their membership will remain as currently displayed on the Scroll of Honor.
 Q: WHEN DO WE SAY 

"THANK YOU" IN PERSON?

 
The Leadership Circle Celebration, is co-chaired by Isaac Azerad & Stuart Sinai (currently looking for volunteers to take over the committee). This is our way to honor and express appreciation to each participant.  This year's Leadership Circle  dinner will be held in person or virtually in February.
Q: WHAT IS THE LOGIC OF THE 

CONTRIBUTION LEVELS?

 
The $5,000, $1800, $1,200 and $600 contribution supplement our Membership dues and help support our spiritual, cultural and educational activities. Ninety members stepped forward this past year to join the Leadership Circle.                                                                                                    
 Q: WHEN DO WE NEED A DECISION ON PARTICIPATION? 
We aim to have this year's Leadership Circle membership identified beginning in September. Payment by check or credit card can be as late as November 30th. This schedule gives us time to do the  necessary updating and gives the Temple more timely cash-flow confidence as budget decisions are made.
Q: HOW AM I ACKNOWLEDGED FOR MY CONTRIBUTION? 
Your name will be featured on the Scroll of Honor in the Social Hall, listed in the monthly Temple Bulletin  and in the annual TBI Membership Directory. You will also be honored at the Annual Leadership Dinner in February 2021.
Q: IS THIS THE ONLY TEMPLE 

FUND-RAISING ACTIVITY?

 
No. We also have our "Wish List" designed to supply specific items needed to be donated to our Temple from members.  Other ways of making contributions to our Temple is to contribute to one of our many funds.
Q: WHAT IF I STILL HAVE QUESTIONS? 
Please contact Leadership Circle committee members: Executive Director Isaac Azerad; Temple President Stuart  Sinai; Rabbi Stephen Sniderman.
Q: WHAT ELSE IS AT STAKE HERE? 
The Leadership Circle is primarily a way to achieve necessary additional funding.  As generations shift in a forty-one year old congregation, it is also a search for those who can be counted on to set the pace in the era ahead.
Every congregation needs leaders.  Longboat Key is richly endowed with leaders and achievers who earned their way onto this golden strip of land and its surrounding areas by means of a successful life. The names of our members are on the contribution rosters of every major areas and educational organization in town.
We stand on the shoulders of  those who planted the flag of Judaism on Longboat Key.  It is now our turn to carry the mantle for the Center of Jewish Living on Longboat Key.
Q: HOW DO I/WE JOIN 

LEADERSHIP CIRCLE?

 
Simply mail a check to Temple Beth Israel  or contact the Temple office at (941) 383-3428 to pay with a credit card. Please note which category you wish to join.  A member of TLC will contact you to confirm how you wish your name to be displayed.
---
2022 Leadership Circle Members
(** specifies Key Membership): 
We thank members of the Leadership Circle, both past & present, for their continued support of Temple Beth Israel. 
Eliot & Phyllis Arnovitz**

Norton & Patricia Baron**

Edwin & Barbara Biron

Marvin & Annette (z"l) Black,

Alice & Murray Blueglass

Barbara Blumfield**

Ross & Wendy Born

Sue & Michael Boorstein

John Bradbury

Debbie Cohen

Judge Edward Cohen

Shirley Fein**

Herman & Sharon Frankel

Nancy Jo & David Freund**

Suzan & Barry Friedman**

Elise & James Galinsky

Suzan & Dr. Philip Gaynes

Patricia & Dr. Philip Gelber

Ann Glickman

Shelley (z"l) & Seymour Goldblatt

Miriam & Allan Goldfarb

Jan & Melvin Goldsmith

Susan & David Gorin

Robin Green & Jay Greenblatt

Barbara Gross

Joyce & Dr. Jon Gudeman

Debby & Gerry Hamburg**

Dr. Audrey Heimler**

Sue Jacobson

Stephen Helpern

Doris Kaplan

Maggie Kaplen & Leon Sokol

Sy Klionsky

Sandy & Ben Krause**

Ruth Kreindler**

Nessa & Richard Levine**

Marion Levine

Risé Loshaek**

Lois Lowsky**

Suzanne Lutkoff

Donald Markstein

Judge Marvin & Betty Morse

Marilyn Naiditch

Lew Moyer & Dr. Sandy Packard

Sylvia & Irwin Pastor

Barbara Pressman

Marjorie & Bill Sandy

Harold Ronson & Molly Schechter**

Sharon Schreiber

Estelle & Dr. Burton Silbert

Carole Shaw & Stuart Sinai

Claire Smith

Donna & Ed Sobel

Mac & Bob Spitzer

Barbara Struth

Marilyn Taub

Tena & Dr. Howard Tessler**

Kelli & Howard Veit

Bob Vigder