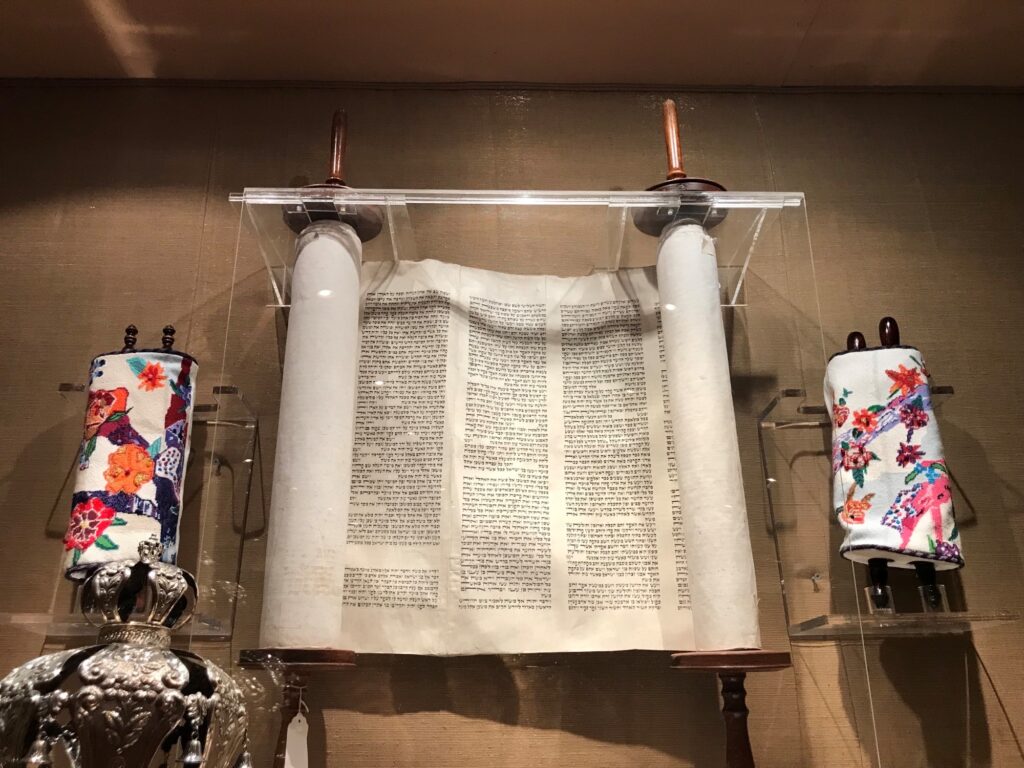 A PRECIOUS SCROLL
With the September 1938 Munich Agreement, Britain and France agreed to Hitler's demand to be given the German speaking border regions of Czechoslovakia.  Jews from approximately sixty congregations immediately fled this region (known as the Sudetenland).  In almost every case, the ritual treasures of these synagogues were destroyed or lost.
The now refugee-swollen congregations in the remainder of Czechoslovakia, which included Prague, were safe for the time being.  When the Germans invaded Czechoslovakia in 1940, all Jewish congregations were closed down.  However, the Germans still utilized an administrative Jewish community structure to execute a stream of decrees and instructions.  In 1941 the first deportations to the Terezin concentration camp began.  They rapidly increased in 1942 and into early 1943.
After the Nazis occupied Czechoslovakia, Jewish communities were instructed to send the contents of their synagogues to the Jewish Museum in Prague.  Torah scrolls, gold and silver items, ritual textiles and thousands of books were shipped.
As a result, the inventory of the Prague Jewish Museum expanded by fourteen fold.  A large number of Jews were put to work by the Germans to sort and catalogue materials that had come from more than one hundred congregations.  Forty warehouses, including several deserted Prague synagogues, were used to store this precious legacy.  With the project's completion, these Jews were then deported to the Terezin concentration camp.
Though the accumulation of such a vast hoard of Judaica was long thought to be at the instigation of the Germans in order to establish a museum for an extinct Jewish race, the collection appears to have been initiated by Jewish leaders in an attempt to preserve their religious heritage.
Since the Prague Jewish Museum had been in existence since 1906, it was not specifically created in order to house confiscated Judaica collected in 1942.  The Nazis, however, seem to have permitted this assemblage due to its monetary value and the potential to put it to nefarious use following the war.
RECOVERING THE SCROLLS
In the early 1960s, Eric Estorick, an American art dealer living in London who made frequent visits to Prague, was approached by Czech authorities about purchasing some of the scrolls.  Taken to the Michle Synagogue, Estorick viewed wooden racks holding about 1800 scrolls in damp surroundings.
On his return to London, he met with Ralph Yablon, a well-known philanthropist with a deep interest in Jewish art, history, and culture.  Yablon, whose son Tony often visits Longboat Key where has a home, became the benefactor who contributed the funds to buy the scrolls.  In February of 1964, two trucks laden with them arrived at London's Westminster Synagogue.  After months of examining, sorting and cataloguing, the Memorial Scrolls Trust (MST) was established to carry out the sacred task of distributing them.
In 1998, a generous gift by former Temple Beth Israel members Paul and Selma Klingenstein enabled the acquisition of scroll #635 from the Trust's 1,564 collection.  Originating from a synagogue in Kromeriz, Czechoslovakia, it is prominently displayed above the other Torahs found in Beth Israel's Aron HaKodesh (Ark).
The town of Kromeriz (30,000 population) is located 184 miles southeast of Prague.  Dating to 1322, its Jewish community was among the oldest in Europe.  Under the protection of a successive line of bishops, the community was later practically wiped out in 1642 by the Swedes in the Thirty Years War.
In 1648 the community absorbed many refugees from the Chmielnicki massacres and eight families expelled from Vienna.  In 1676, Kromeriz grew in prominence and affluence.  At that time 27 families constituted its Jewish community.  In the 18th century the community faced economic decline prompting some Jews to leave.
Though blood libels had led to unrest in 1889 and 1896, a beautiful new synagogue designed by renowned Viennese architect, Jakob Gartner, was dedicated in 1910 (see photos below) when the Jewish population had swelled to more than 600.  By 1930 this number had significantly diminished.
To their credit, the Czech people paid little attention to the anti-semitic laws established following Nazi occupation in 1940.  However, the Nazis blew up the synagogue in 1942.  Two-hundred and seventy Kromeriz Jews perished in the Holocaust.  A memorial commemorating the uprooting of the Jewish community and synagogue destruction was unveiled at its former site in 1994.
THE ARRIVAL OF THE SCROLLS
Tony Yablon has shared that when the scrolls first arrived in London written notes could be found hidden in some of them expressing the haunting fear and anxiety Czech Jews faced.  He also related that finding capable scribes to repair many of the scrolls had been difficult because those in the London area refused to be associated with the Progressive (i.e. Reform) Westminster Synagogue.
Then, as fate would have it, on a cold winter night a man knocked on the synagogue's door.  When the caretaker appeared and asked what the man wanted, he explained he was a scribe in search of work and wanted to know if the synagogue might need his services.  The caretaker laughed and asked if some sort of joke was being played.  The scribe, who hadn't heard about all the scrolls housed at the synagogue, said he was quite sincere in his inquiry.  That scribe, who had no concern for the kind of synagogue they were held in, went on to work on the scrolls for the next 26 years.
TBI members should take great pride that one of these Czech scrolls found a home in our midst as each is a messenger from a community that, though lost, has not been forgotten.   In February 2016 Rabbi Katz participated in the first ever reunion of MST scrolls in Hollywood, Florida.
REVERING THE LEGACY
People are fascinated by the story of the Czech Scrolls because, in escaping destruction and plunder, they defy expectations.
For congregations that received a scroll, it often marked the most powerful symbol of the Holocaust in their midst.  Celebrated on their arrival, they quickly became woven into synagogue life.
Nevertheless, over time, many congregations have lost connection with the legacy associated with their scroll.  While we know what happened to Europe's Jews under Hitler and can find it difficult to reflect on that terrible period, the survival of these scrolls is an inspiring chapter in Jewish history.
Each Czech Scroll is an illustrious messenger from the past that deserves to be known.  As such, congregations entrusted with a Memorial Scroll have an obligation to dedicate one Shabbat a year in memory of those Jews linked to their scroll.
Other scrolls from the Kromeriz Jewish community are on permanent loan to congregations throughout the U.S.  They include:
| Number | Congregation | City |
| --- | --- | --- |
| 83 | | Westminster, CA |
| 547 | | Ridgefield, CT |
| 628 | | Silver Spring, MD |
| 635 | | Longboat Key, FL |
| 793 | | Chattanooga, TN |
| 932 | | Bridgewater, NJ |
| 976 | | North Miami Beach, FL |
| 1136 | | Chestnut Hill, MA |
A special thanks to The Memorial Scroll Trust for inviting Temple Beth Israel to participate in their network of scroll bearers.
The impressive former synagogue of Kromeriz can be seen gracing the town's main promenade in the photos below: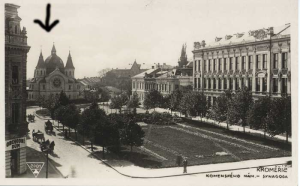 Image of former synagogue of Kromeriz

Former Kromeriz Synagogue in color