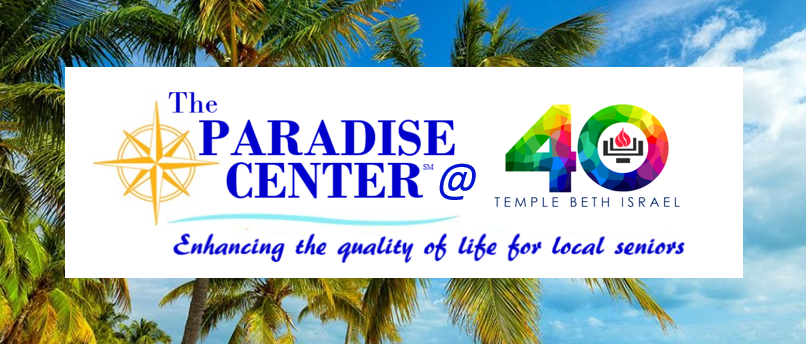 The Paradise Center has moved to Temple Beth Israel! Suzy Brenner, Executive Director of TPC, stated, "we have been seeking a more central, visible and easily accessible location on Longboat Key and until we have raised the funds for our own building, we are thrilled that Temple Beth Israel has extended an invitation to house our organization."
The Paradise Center was created as an outreach program of the Longboat Island Chapel – named Aging in Paradise Resource Center – when Chapel members and leaders realized the community's need for senior services and activities. After the name was changed to The Paradise Center and the organization became a partner of The Longboat Key Center for Healthy Living, the Chapel generously continued to donate its second-floor space for use by The Paradise Center.
The Paradise Center has continued to grow over the last few years, offering 297 activities in 2017 alone, with a total attendance of almost 4,000. Brenner has found, "We live in this paradise, but the need is strong for the seniors in our community to have a place to combat loneliness and isolation. The popularity of our programs is evidence of this need."
Temple Beth Israel Executive Director, Isaac Azerad, finds "it makes perfect sense for The Paradise Center to be here at Temple Beth Israel. They can continue to increase their programs and we can offer even more activities, free of charge, to our members. We share a goal of supporting the community and we can do it even better together."
The Paradise Center will continue its year-round programming on Longboat Key as scheduled.
All TPC activities are open and FREE to members of Temple Beth Israel (excluding their annual Gala)
For more information on classes and events, please click here
For any questions or to register, contact Mary Ann Brady, Executive Assistant, The Paradise Center 941.383.6493, maryannbrady@theparadisecenter.org